Parish Announcements | 堂区报告
Pastoral Letter dd 16th Feb 2021
Dear Brothers and Sisters,
It is not long to 18th March, the distressing day our nation entered this twilight existence of ours—a surreal landscape peppered by various movement controls and restrictions depending on the political winds that blow. A prospect more dismaying than marking the dreadful anniversary of the lockdown is that we might have to endure yet another likelihood that we are denied our Easter celebration. If not, we may have a scaled-down celebration that will only serve to frustrate rather than to fulfil our spiritual needs.
It sounds depressing, but let us not forget that we are also entering into the season of hope. In different parts of the world, today is called Mardi Gras (Fat Tuesday), Pancake Tuesday, Shrove Tuesday, and more because tomorrow we enter into Lent. Even though it is liturgically penitential, it is nevertheless, a season leavened with the spirit of hope for our salvation. Jesus the Christ is coming to save us.
The para-liturgies for the home celebration of Ash Wednesday are available on the Cathedral's website in both Mandarin and English. They were also broadcasted through the Cathedral's Telegram channel. We have made available the ashes necessary for the celebration. Sachets together with the printed para-liturgies are available from the Cathedral Office.
Along with this broadcast/announcement, you will find additional information on how to administer the ashes at home and what to do with the remaining ashes. Since you are celebrating it amongst your family members, it is possible to trace the cross on the forehead instead of sprinkling ashes on the crown of the head.
I pray that you will have a meaningful celebration at home. Interestingly, the word "Shrove" is associated with "Confession" and "Absolution". As Lent is penitential, note that the Sacrament of Reconciliation is always available. Call the Office or the priests personally to make an arrangement.
They say that absence makes the heart grow fonder. May this prohibition of ecclesial gathering instill in us a more profound hunger for the return of public worship to our beloved Cathedral. As we hope for that day to come soon, allow the Prophet Daniel to remind us as we cross into Lent, "Let us turn our face to the Lord God, seeking him by prayer and supplications with fasting and sackcloth and ashes". (Daniel 9:3)
God bless
Padre
牧民信函2021年2月16日
亲爱的主内兄弟姐妹,
我们即将来到3月18日,一个由政治为导向开始执行各种行动管制和限制的痛苦日子。一个比这可怕的封锁周年纪念日更令人沮丧的是我们需要再一次承受无法庆祝复活节的可能性。不然,我们也只能够以小规模的方式庆祝。与其满足我们的灵修需求,这只会使我们沮丧。
这听起来令人沮丧,但不要忘记我们也正进入希望的季节。在世界的不同地方,今天被称为油腻星期二、煎饼星期二、忏悔星期二等等,因为明天我们将进入四旬期。尽管四旬期的礼仪是悔改,但这仍然是一个充满救恩希望的季节。耶稣基督来拯救我们。
在主教座堂的网站上可以获取华文和英文版的施放圣灰的居家礼仪。它们也可以通过主教座堂的Telegram频道获取。我们已准备了在圣灰礼仪需要使用的小包装圣灰。你们可以从主教座堂办公室获得小包装圣灰和施放圣灰的居家礼仪。
连同这次的广播/通告,你们还将获取有关如何在家中准备圣灰以及如何处理剩余圣灰的讯息。由于你们是在家中领圣灰,因此你们可以以圣灰在额头上划十字架圣号,而不必在头顶上撒圣灰。
我祈求你们可以在家里庆祝有意义的圣灰礼仪。有趣的是"忏悔"一词与"告解"和"赦罪"有关联。由于四旬期是悔改季节,请注意,你们随时都能够办和好圣事。请亲自致电办公室或神父进行告解安排。
如人们说的"分离让人更珍惜"。愿这种对于信仰聚会的限制使我们更渴望回到主教座堂的公开敬拜。当我们期望这一天能很快到来时,达尼尔先知在我们即将进入四旬期之际提醒我们:"我面向吾主天主,以祈祷﹑恳求﹑禁食﹑穿苦衣,顶灰尘,求问他。"(达尼尔先知书9:3)
天主降福大家!
杨光明神父
Parish Pastoral Directive from Bishop Bernard Paul, no. 31
Attached here is His Lordship Bishop Bernard's Pastoral Directive No.31 – BISHOP'S LOOKING FORWARD (dated 4-Dec-2020) for dissemination to all Clergy and Lay Faithful of Malacca Johore Diocese.
If you wish to contribute to the church, you can do so with the JOMPay facility.

Fill Ref-1 with your mobile number so that we contact you if necessary and fill Ref-2 with your donation's intent. For example, "Church" or "POHD".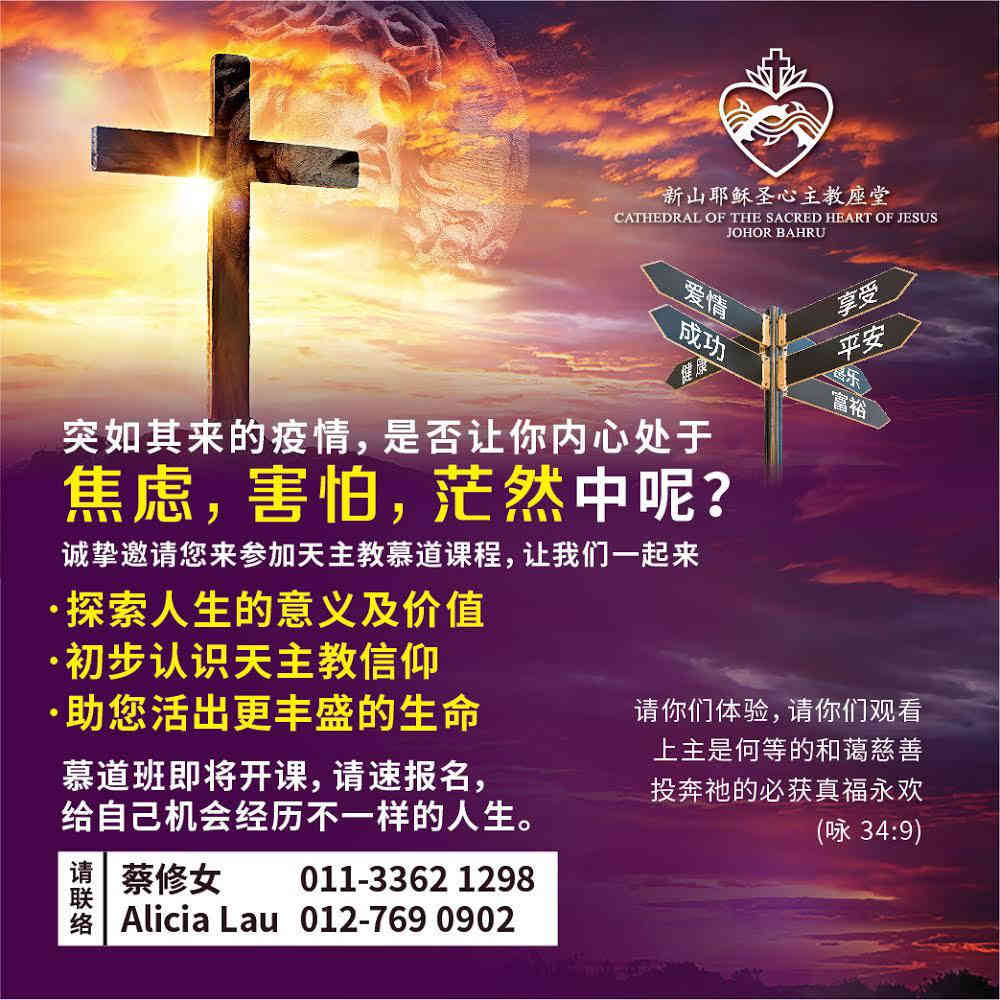 For Malacca-Johore Diocesan news and information, do visit www.mjdiocese.my
欲了解甲柔教区的讯息,请参阅 www.mjdiocese.my
_____________________________________________