Parish Announcements | 堂区报告
Please help to refer to the mass attendance list and note down your confirmation number for verification purpose.
Please help to inform the parish office or registration@shcjb.org if you are unable to attend mass, or if you would like to request to attend a different mass from the mass which you have been allocated. Please provide the last 4 digits of the confirmation number. Thank you.
请参阅名单并记下您的确认编号以在参与弥撒时进行验证。
如果您无法参与弥撒,或者您想请求参与不同于分配给您的弥撒日期与时间,请通知堂区办公室或电邮至registration@shcjb.org。请提供确认号码的最后4位数字。谢谢!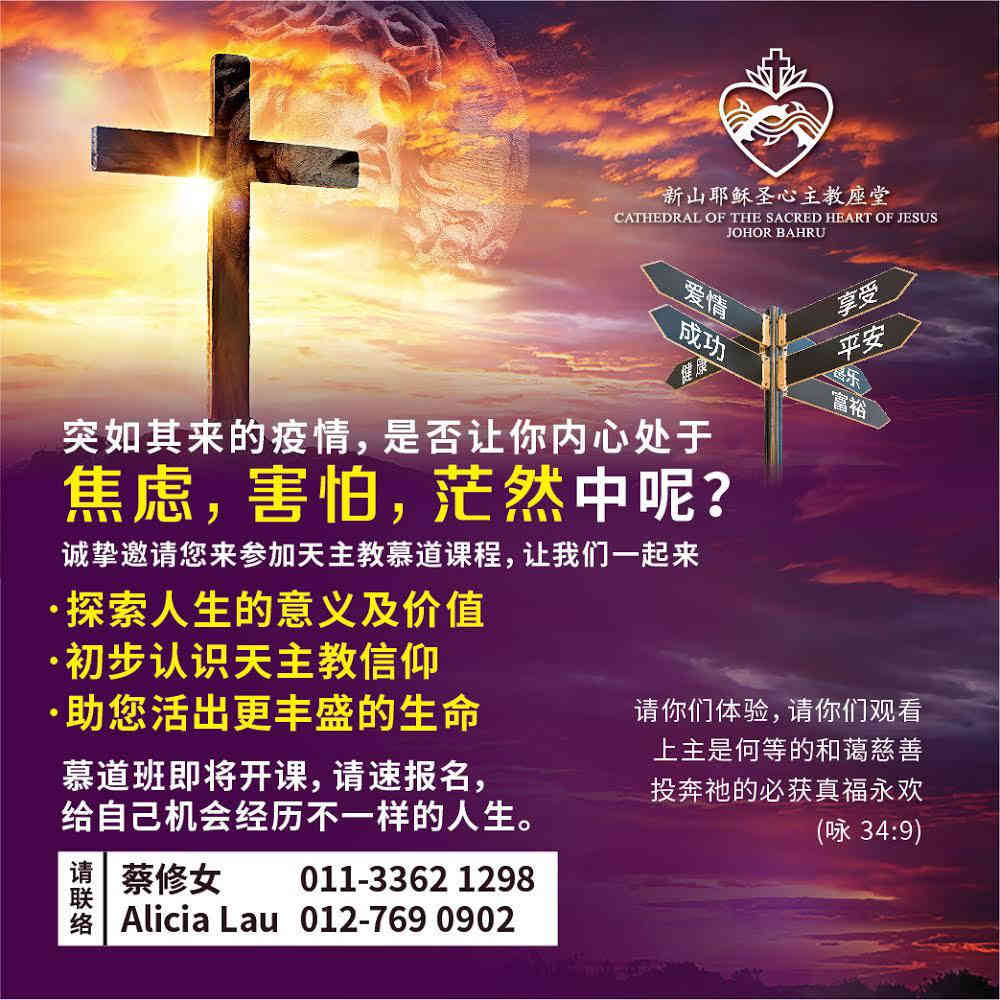 Pastoral Letter Nr 8 dd 8th July 2020
Dear Brothers and Sisters,
We are gearing to reopen the Church for public service, albeit, a restricted service. A team of leaders have been working behind the scene as we move towards our first public Mass.
This Sunday, the 12th of July, we will begin with one Mass at 9 am. It is undeniable that everyone is a creature of habits. Some of us are more set in our ways than others. Since we will be under scrutiny, the SOP that we have put up will surely be inspected by the relevant public authorities—health ministry and the police. Consequently, the first few Masses will be restricted to the volunteers as they need to familiarise themselves with the SOPs. They are the one who will have to enforce social distancing, temperature taking and the likes and therefore it is necessary that they are coordinated in carrying out their duties.

READ MORE...
If you wish to contribute to the church, you can do so with the JOMPay facility.

Fill Ref-1 with your mobile number so that we contact you if necessary and fill Ref-2 with your donation's intent. For example, "Church" or "POHD".
For Malacca-Johore Diocesan news and information, do visit www.mjdiocese.my
欲了解甲柔教区的讯息,请参阅 www.mjdiocese.my
_____________________________________________