Parish Announcements | 堂区报告
The Church premises will be

closed

from 18th of March 2020.

NO Masses

,

events, BEC gatherings, formations, prayer meetings, choir practices, RCIA, Catechism, Funeral wakes, etc

.

Parish office will be

closed.

In case of emergency, please contact the Parish Office staff:
Ms. Carol Tay 016-7221733,
Ms. Teresa Chew Pacifico 016-871 8986,
Sr. Imma Chua, CSCM 011-3362 1298.
Homebound visits suspended except for those in danger of death. In case of emergency, please contact:
Fr. Simon Yong,SJ 012-666 7251,
Fr. John Pereira 017-770 2802,
Fr. Michael Teng 016-717 1802.
Funeral Parlour will be

closed

, for funeral matters, please contact:
Patrick Tan 012-786 7280.
教堂将会从2020年3月18日关闭。
所有弥撒,基信团聚会,信仰培育,团体祈祷,歌咏团练习,慕道班,教理班及其他活动将取消。
堂区办公室将会关闭。如有紧急情况,请联络以下办公室人员:
Ms. Carol Tay 016-7221733
Ms. Teresa Chew Pacifico 016-8718986
蔡金拉修女,CSCM 011-33621298
外送圣体将暂停除了为有生命危险的病人。在非常紧急情况下,可联络本堂以下任何一位神父:
Fr. Simon Yong, SJ 012-6667251
Fr. John Pereira 017-7702802
Fr. Michael Teng 016-7171802
________________________________________________
Blessings of Palms
Dear Brothers and Sisters in Christ,
I have received from CIC a total of 10 pcs of palms. They are more than what I need for the symbolic blessing of palms on Palm Sunday. Some of you may want to have your palms blessed. Please send them to the Church. Pass the palms to the guard at the gate. Deadline is Saturday 4th April 12pm. The two pictures show how you should prepare the palms if you want them blessed.
Clean the palms.
Leave some holding space at the "stem handle" (petiole) so that they can be soaked in water to preserve their green colour.
Write your name and mobile Nr and attach it at the top end of the palm leave so that I can contact you personally to come and collect the palms—at a time that is convenient.
I hope this is helpful.
God bless you all.
Padre
Rosary & Adoration
The Sisters of the Sacred Heart of Mary living in our parish will have an adoration before the Blessed Sacrament in their private chapel from 6 am to 6pm from today till 31st March. They take turns amongst themselves to pray.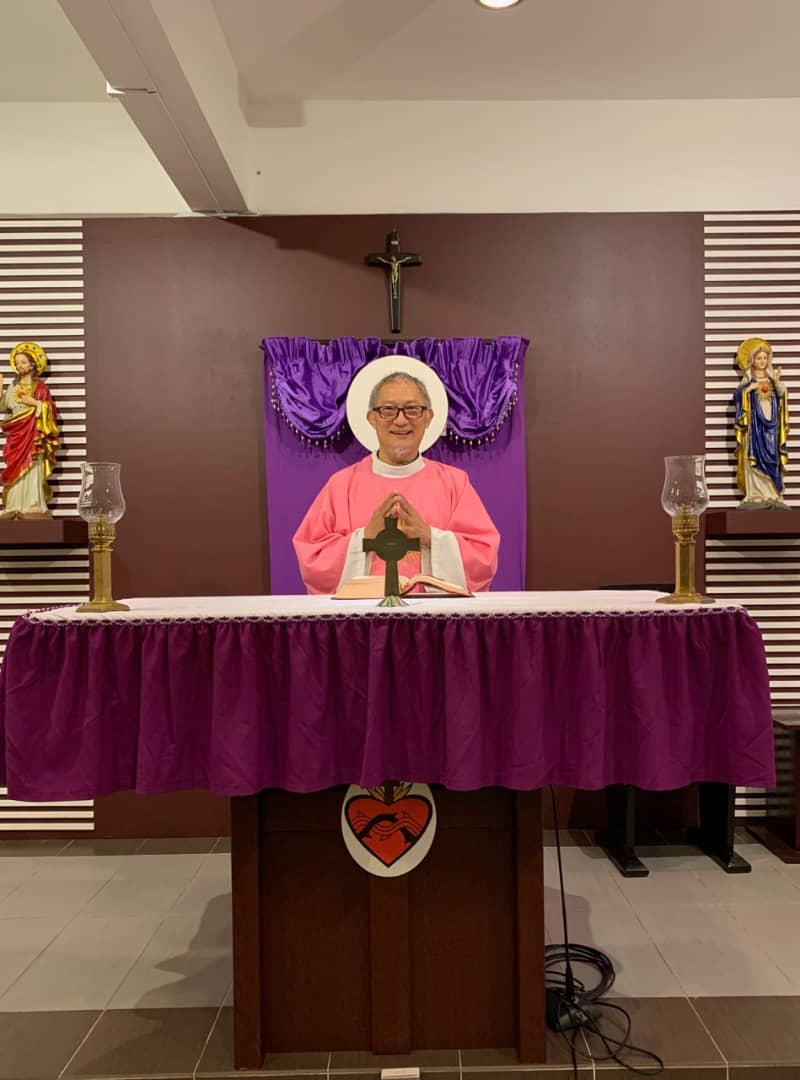 Public Masses may be "banned" but here is our Parish Priest celebrating his private Mass for the intentions of the Cathedral.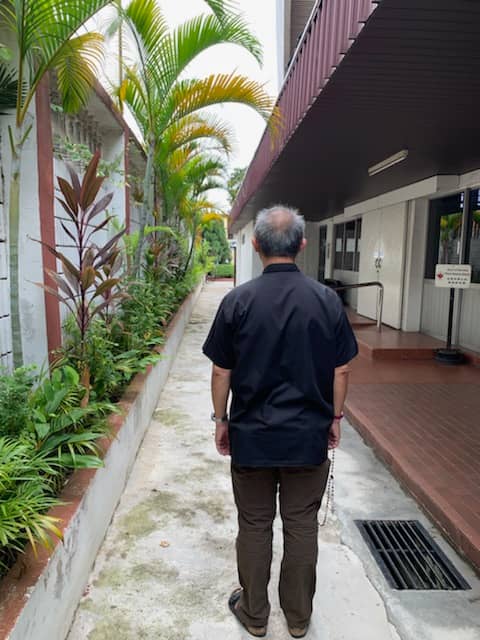 Our Parish Priest praying the Rosary in tandem with the Parish Weekend Rosary initiative. Since we cannot gather for public Masses, at least we can collectively ask Our Lady to intervene on our behalf for the end to this pestilence.
Prayer and fasting are powerful reminders that all is dependent on God.
__________________________________________________________________
Fasting And Abstinence
Fasting is to be observed on Ash Wednesday and Good Friday by all Catholics who are 18 years of age but not yet 59. Those who are bound to fast may take only one full meal. Two smaller meals are permitted if necessary, to maintain strength according to one's needs, but eating solid foods between meals is not permitted.
Abstinence from meat is to be observed by all 14 years or older on Ash Wednesday, Good Friday and on all Fridays.

___________________________________________________
Year 2020 GLEEF Scholarship | 教育奖学金
The GLEEF is pleased to award scholarships each year to students in higher educational institutions.
Open for Application from 1st March 2020 till 15th April 2020.
The applicant must be from under-privileged, poor or needy family and must be a resident of Johor, Catholic or Catechumen.
Application forms are available here.
宗旨:帮助家中经济清寒子弟接受大专或学院教育所需要的经费。申请者必須是柔佛州居民的天主教徒或慕道者。
开放申请截止日期:2020年4月15日
*请向堂区办公室索取申请表格。
**详细内容请参阅布告栏
_________________________________________________
For Malacca-Johore Diocesan news and information, do visit www.mjdiocese.my
欲了解甲柔教区的讯息,请参阅 www.mjdiocese.my
_____________________________________________